Why Choose Masterbrand Cabinetry
Thursday, August 15 | 2019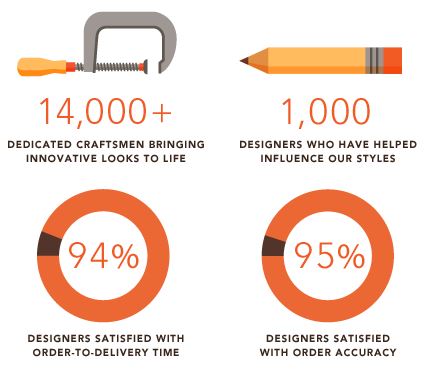 Why MasterBrand?
Because We're Expert Cabinet Makers
As a cabinet manufacturer, we know every project is different. That's why we offer expertise for every level of consumer - from start to finish.
Whether you're a seasoned do-it-yourselfer or hiring a professional installation crew, selecting cabinetry products for your home is easy when you work with the expert cabinet makers at MasterBrand. With our help, you won't just pick cabinetry options; you'll make thoughtful choices and understand why your cabinet selections will work for your life.
About MasterBrand
As one of the largest cabinet manufacturers in North America, we're experts at listening to the desires of families to ensure that our cabinetry products meet their needs. Whether moving into a new home or improving their current one, our customers want to create their ideal living spaces – and it's our goal to help them.
That's why our brands offer both quality and versatility, fair prices, and are backed by extensive networks of cabinet dealers and manufacturers, and why we honor every promise we make.
Our Culture
The mission and values that define us as cabinet makers
Our mission, values and service basics have defined our success, helping us to become one of the most trusted cabinetmakers around. Continually integrating these core beliefs into our design, cabinet manufacturing and delivery capacities has differentiated us from the competition and helped us provide exceptional products and service to our consumers.
Our Mission: We make it easy for customers to select, purchase and complete their cabinetry project.
---
Core Values that Define Our Success
MasterBrand fulfills our mission of making it easy for customers to select, purchase and complete their cabinetry project through six core values. These values translate into behaviors that a person, or company, becomes known for. The Six for Success are built upon a solid foundation of competencies that are proven to result in high achievement.
Be Trustworthy — Gaining the confidence and trust of others through honesty, integrity and authenticity.
Commit to Your Team — Building partnerships and working collaboratively with others to meet shared objectives.
Listen to Understand — Developing and delivering multi-mode communications that convey a clear understanding of the unique needs of different audiences.
Serve Your Customer — Building strong customer relationships and delivering customer-centric solutions.
Prepare and Plan — Planning and prioritizing work to meet commitments aligned with organizational goals.
Deliver the Result — Consistently achieving results, even under tough circumstances.