The Highly Engineered TimberTech Decking Advantage
Monday, July 15 | 2019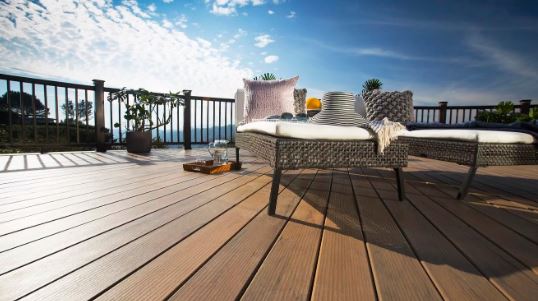 There's a reason so many homeowners are choosing materials other than wood to build their deck. PVC capped polymer is more durable, easier to maintain, and offers longer lasting aesthetics than wood. In addition to being easier to work with, engineered decking is also a better investment than traditional materials, requiring less upkeep and fewer repairs over time—and initial price points to fit a variety of budgets.
Engineered to Perfection
Unlike wood, engineered decking is a precisely crafted product. All of our TimberTech AZEK decking is created by blending and heating quality raw materials to forge a plank with the desired characteristics. This is then shaped, cooled, embossed and cut to size. The result is a board that combines the beauty and texture of real wood with superior durability, workability and lasting, low-maintenance performance.
Deciding on Decking
Choose the right decking can depend on many factors, including color, texture, material and price. Engineered decking falls into two main categories: PVC capped polymer and capped wood composite. TimberTech AZEK is PVC capped polymer composite decking and includes only inorganic materials, which enables superior performance characteristics.
TimberTech AZEK PVC Capped Polymer Composite
There are many benefits to building your deck with TimberTech AZEK capped polymer products. Here are just a few:
Alloy Armour Technology
Superior durability
Superior, lasting aesthetics, including outstanding color fastness
Contains no organic material, making it easy to clean, and mold and mildew resistant
Excellent heat dissipation (cools quickly on those hot days)
Unparalleled design flexibility
Low maintenance, requiring no annual staining or sealing
Splinter-free
Resistant to blushing, stains, scratches, rot, insects, and fading
Outstanding weatherability
Durable protective cap
Lower lifetime cost of ownership vs. wood
Variety of price points
Made in the USA
TimberTech AZEK PVC capped polymer composite decking offers everything you love about traditional wood decking, without the hassles and headaches. Instead of wasting time and money to stain, seal, and maintain your deck year-after-year, you can be confident in knowing you have a quality deck with the rich, natural look of hand-scraped wood. With all the varieties of decking materials to choose from, selecting the right one for you can feel daunting. The good news is, with all the advantages of TimberTech AZEK decking, there really isn't a bad choice.