Freshen Up the Outdoors With TimberTech
Monday, May 15 | 2023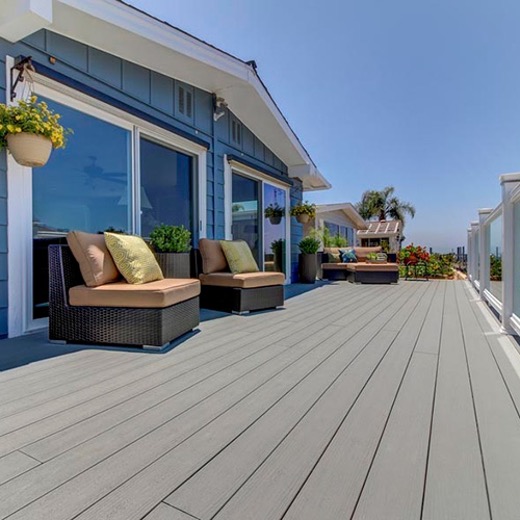 With summer around the corner, home construction and remodeling projects are ramping up. Make sure you have everything you need to freshen up the outdoor living spaces of your projects. Whether you are working on new residential construction or remodeling projects, TimberTech will help you add stunning and long-lasting finishing touches. TimberTech has recently released a stunning new line of products—just in time for summer!
LANDMARK COLLECTION - BOARDWALK®
Boardwalk® is the latest color addition to TimberTech's line of advanced PVC decking. It offers homeowners a chance to achieve that highly sought-after, trending wood aesthetic.
The gray tones, reminiscent of weathered hardwood boardwalks on the shore, add a touch of coastal inspiration to any deck.
RESERVE COLLECTION - RECLAIMED CHESTNUT™
Achieve a weathered, reclaimed wood appearance with the latest addition to TimberTech's composite decking collection. Reclaimed Chestnut™ is light brown with subtle gray hues. It provides the look of weathered white oak or chestnut, achieving the reclaimed barn wood look that is so popular in outdoor living trends.
CLASSIC COMPOSITE SERIES - MATTE BLACK
TimberTech updated its composite railing series with a new Matte Black finish. It comes complete with a 25-Year Fade & Stain Warranty, available exclusively with the matte colors. This finish adds a touch of class to composite posts, top rails, and composite balusters without sacrificing quality. This low-maintenance composite railing has a protective polymer cap that resists rot, mold and mildew, cracking, staining, splitting, and warping, for long-lasting durability and beauty.
PVC RAILING
Discover two new PVC top railing options, each featuring an aluminum core. This paintable, lightweight railing is UV-resistant and moisture-resistant. The milled wood-inspired design offers superior durability—it won't rot, swell, crack, split, or chip. Choose from Pinnacle Rail with a wider, "beverage friendly" top and choice of upgrades such as decorative panel infills and gates, or Statement Rail, an elegant milled wood-inspired railing designed for fast and easy installation.
CABANA X
Bring any outdoor space into the modern world with TimberTech's fully customizable, smart CabanaX. It includes fantastic upgrade options like operable louvers, a foldable modular couch, and power outlets. The CabanaX is available in a variety of rich finishes, such as South Beach, Aspen, and black and white for a stunning contrast.
Expanding TimberTech's Reach
Explore the complete line of TimberTech products at Contractor Express, Long Island's leading building material supplier since 1981. Contractor Express proudly offers TimberTech products to enhance your outdoor living spaces in Long Island and surrounding cities, such as RVC (Rockville Centre), Long Beach, Freeport, Valley Stream, and Woodmere.
Explore TimberTech's innovative and durable decking and railing solutions for your home construction and remodeling projects, and experience exceptional quality and style in every city. To learn more about these products or to place your order, call our team today at 516-764-0388!