Earn A Free Trip With Your Loyalty Purchases!
Friday, February 17 | 2023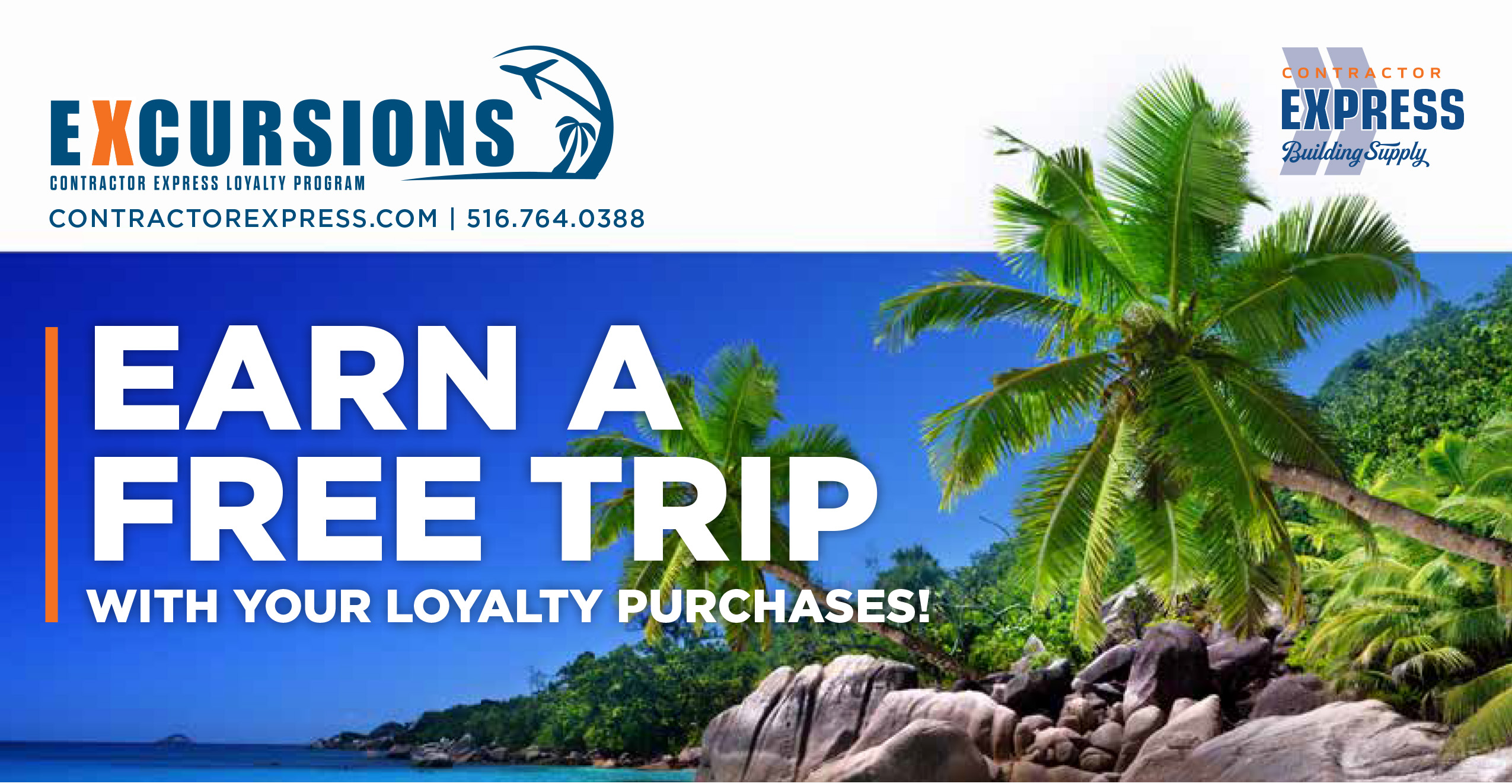 2023 Excursions Contractor Express Loyalty Program
Life is busy. We all have multiple schedules to juggle, work commitments, and important family events. Sometimes it's hard to squeeze in a day off, much less plan a vacation. But all that racing around means you deserve some time off. Contractor Express can help make that happen.
At Contractor Express, we're excited to give a little something back to our loyal customers. That's why we designed the Excursions Contractor Loyalty Program. Every time you place an order, your purchases go toward a well-deserved vacation. All you need to do is purchase your building materials from Long Island's leading building material supplier. It's a win-win. You get the highest quality supplies and the loyalty purchases help towards getting you one step closer to that exciting trip.
Accumulate loyalty purchases in the program with every dollar you spend at our building supply company. Some of the amazing trips you can earn include a family trip to Walt Disney World Resort in Orlando or a romantic trip for two to the Bahamas.
The best part is that there are multiple reward tiers. So, when you purchase more, you can quickly move up from Elite to Exclusive and then on to Ultimate or Supreme. Each features a variety of dream travel packages you can choose from. Some other destinations you can set your sights on include Colonial Williamsburg, all-inclusive trips to luxurious resorts in Mexico, tickets to a major league baseball game (complete with a five-star hotel stay), and an exciting trip to Napa Valley or Jamiaca.
Are you ready to start earning loyalty points so you can finally take a dream vacation? Don't wait! Register now for the Excursions Contractor Express Loyalty Program. The sooner you register, the sooner you can get away to a tropical paradise and the vacation of a lifetime.
Contractor Express has been Long Island's leading building material supplier since 1981. Contact us today to learn more about our quality building materials and our contractor loyalty program!