Simpson Door Company: Waterbarrier® Technology
Thursday, October 08 | 2020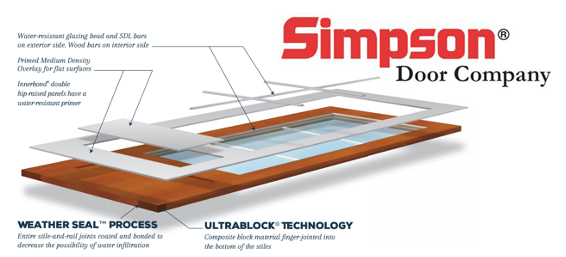 Protecting your doors from water damage and mold is crucial towards the extended life of your door. Here at Contractor Express, we highly recommend the proprietary technology that Simpson Door Company provides with their doors. This technology is called Waterbarrier®, and just as the name suggests, it serves as a barrier to keep water from damaging the door.
Waterbarrier® uses water-resistant glazing beads and bars along with a medium density overlay that creates a protective layer for the door. This technology is often used on things such as street signs and concrete forms, and is proven to be exceptionally durable.
We understand that as a homeowner, keeping the design and look of your home consistent is important. Fortunately, Waterbarrier® doors are very easy to customize to your liking. The medium density overlay creates a surface that is easily paintable and matchable to any woodwork that you already have. These doors are also available in many sizes and functionalities such as entry doors, patio doors and side doors. With virtually an endless amount of options, Waterbarrier® will only compliment any entrance in your home, while also providing protection from outside elements.
As an added bonus, all Waterbarrier® doors come with UltraBlock® technology and Simpson Door Company's Weather Seal™ process, as well as a 5-year warranty giving you peace of mind. If you are ready to make the switch to a door that will withstand the changing seasons, call Contractor Express today to get started!